Posted By marita on April 3, 2012
The last few years I have been trying to commit God's word to memory. I have had some very rewarding successes and some miserable failures.  Last year worked out pretty well.  I had accountability, last year.  This year I started out doing it on my own, really on my own.  I had my plan, I started finding wonderful  verses to memorize. For some reason I just couldn't get going.  I would make an effort then, be to tired, not follow through, skip practice, set myself up to fail.  I was doing it on my OWN. Really… when will I learn? Why is it so hard to submit and remember to seek the Holy Spirit's guidance in making decisions. Doing it on my own never gets me anywhere.
So I am starting fresh, starting this Sunday.  It starts with prayer, then a challenge from "Hiding His Word in My Heart".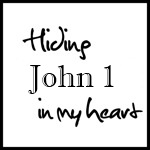 It is a 50 day challenge to memorize John 1:1-14. I love those verses and am really looking forward to putting God's Word in my heart.
Why don't you come join the community and Put His Word in your heart.
Here is a great resource for memorizing:
An Approach to Extended Memorization of Scripture